For buyers of Windows 7 PCs who wants to upgrade to Windows 8, Microsoft has officially started the Windows Upgrade Offer program. Under the program, purchasers of Windows 7 PCs can upgrade to Windows 8 Pro for a cheap price of $14.99.
All customers who purchased a new Windows 7 PC from June 2, 2012 to January 31, 2013. Yes, you're eligible for the Windows Upgrade Offer even if you buy a Windows 7 PC after Windows 8 general availability on October 26th, 2012. The Windows 7 computer can be pre-installed with almost any editions of Windows 7, namely Windows 7 Home Basic, Windows 7 Home Premium, Windows 7 Professional or Windows 7 Ultimate. As all editions of Windows 7 will upgrade to the same Windows 8 Pro upgrade version, there is no need to spend extra money to upgrade current Windows 7 edition when purchasing PC if you intend to upgrade to Windows 8.

To register for the Windows 8 Upgrade Offer, a valid Windows 7 OEM Certificate of Authenticity and product key are required. Note that for now, it's just a registration for the upgrade offer. Actual purchase payment and fulfillment through downloading will be available beginning October 26, 2012, when the registered customers will receive an email with a promotion code and instructions for purchasing and downloading the software. The promotion code can be redeemed during the upgrade ordering process to receive the promotional price of $14.99.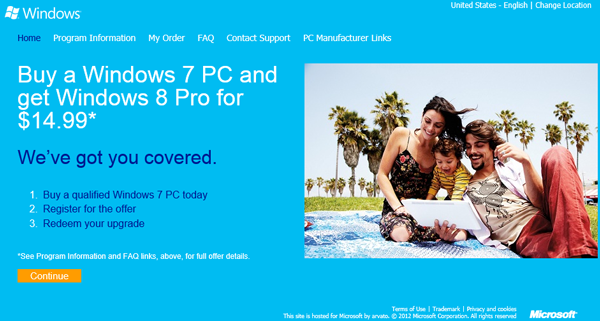 While Windows 8 Pro is the most ultimate version of Windows 8 other than Windows 8 Enterprise, do note that Windows 8 no longer support DVD playback. To playback DVD, you will need to fork out more money to purchase the Windows 8 Media Center Pack or use a third-party media player.
In addition, as the Windows 8 Pro is of Upgrade SKU, it requires a valid "genuine" version of Windows to upgrade from. So don't hope of using the downloaded Windows 8 Upgrade ISO image to perform a clean install, although a workaround to do so will be available by then.
Windows Upgrade Offer must be registered, redeemed and paid by February 28, 2013.
Register for Windows Upgrade Offer at https://windowsupgradeoffer.com/