Kinovea is a free and open source video analysis software that can help you to do video analysis if for some reasons you need it. One instance is that you are coaching a basketball team and you need to analyze your opponent's strategies or the players' movements based on video recordings of their past games. This free program features some basic but useful functions for users to conduct a detailed analysis on selected videos.
Users can load one or two videos into the application and do the analysis. Users can make visual comparison analysis using the magnifier effect and control the playback speed (2% – 200%) for two different videos. Users can also use Kinovea drawing tool to outline the trajectory. Other useful features include image adjustments, comments, chronometers, 3D plane, and saving a sequence as images.
Kinovea's latest version Kinovea 0.7.6 can be downloaded via the direct link here. This application requires the Microsoft .net Framework 2.0 or higher to run properly.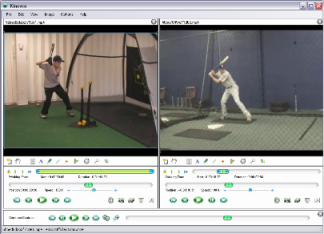 Kinovea is a powerful video analysis tool for coaches, athletes and medical professionals.