Posted:
November 19, 2013
/
Under:
Operating Systems
/
By:
My Digital Life Editorial Team
If you're a fan in 3D printing, there is a new tool coming from Microsoft for you. Microsoft has released a new 3D Builder app for Windows 8.1 to allow users easily create and print objects in 3D, if they're having a Windows 8.1-ready 3D printer. Microsoft has been actively support 3D printing through adding native support for 3D printing in Windows 8.1 where the OS offers plug-and-play support for printers, enables programs to submit 3D print jobs and understands 3D file formats.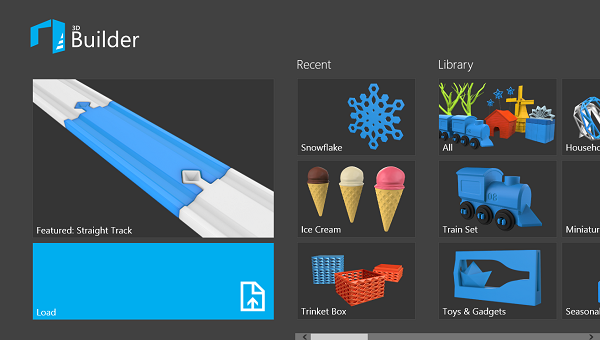 According to Microsoft, 3D Builder has a catalog of objects or templates you can create from ornaments to toys and more. The clean, simple user interface of the app lets you scale, rotate and adjust what you want to print. User can add multiple objects to a single print, or even stack or push objects into one another to create new ones. In addition, 3D Builder app also supports the printing of 3D objects created in other applications or ones that are downloaded from the Internet.
In other words, with 3D Builder, user can view, prepare, and print the 3D models on Windows 8.1-ready 3D printers. Its features include:
View and prepare objects for 3D printing on Windows 8.1-ready devices
Load STL, OBJ, or 3MF files from disk
Library of 3D objects to explore and print
The library of 3D objects includes several categories such as household objects, letters and numbers, miniature objects, train set, toys and gadgets, with things such as straight tracks, trinket box, snowflake, ice cream, gimble keychain, pendant, money clip, train engine, cookie cutters, checkers, chess set, chattering teeth, picture frames, buttons, cars and etc. User can also create own items out of imagination, or by combining the preset templates into larger object.
3D Builder app can be downloaded from Windows Store.