In Windows XP, there is an interesting arcade game called 3D Pinball, which comes built-in with the operating system for free. The pinball video game in Windows XP has the full name of 3D Pinball for Windows: Space Cadet, and is licensed from the pinball software collection Full Tilt! Pinball developed by Cinematronics and published by Maxis in 1995 with only Space Cadet table.

3D Pinball: Space Cadet had been packaged with Microsoft Plus! 95 and later included in Windows NT, Windows Me, Windows 2000 and Windows XP. Windows XP is the last version of Windows OS that bundled with the free pinball simulation game, and the Pinball game has since been removed and dropped from Windows Vista and Windows 7.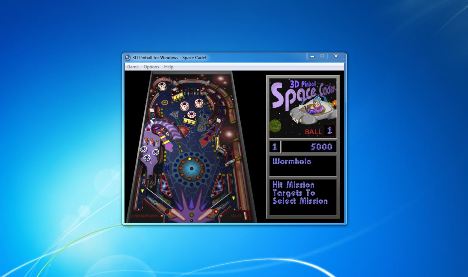 For people with loves to play the 3D Pinball in Windows Vista or Windows 7, here's the hack to bring back the 3D Pinball from Windows XP and install on Windows 7 or Vista.
Download the 3D Pinball game files from Windows XP ZIP package: Pinball.zip

The ZIP package is extracted by christantoan. Alternatively, for users with Windows XP system, it's possible to copy the Pinball files from the %SystemDrive%\Program Files\Windows NT folder.

Unpack and extract the ZIP archive to any folder. For example:

%ProgramFiles%\Windows NT\Pinball
%ProgramFiles(x86)%\Windows NT\Pinball
%ProgramFiles%\Microsoft Games\Pinball
%ProgramFiles%(x86)\Microsoft Games\Pinball

Note: The ZIP archive already contains \Program Files\Windows NT\Pinball directory hierarchy.

Inside the extracted folder, right click on the PINBALL.exe, select Send To in the right click context menu, and then Desktop (Create Shortcut).

Note: No installation, so no Start Menu item or program group will be created.

If you need the Help files for Pinball, extract the ntart.chm, ntdef.chm, pinball.chm and pinball.hlp to %WinDir%\Help folder.
The Pinball should be able to run on both 32-bit (x86) and 64-bit (x64) Windows 7 and Vista. However, as it's a legacy game, it's available in 640×480 resolution only.