Have you ever think one day you may login to web account by just a click and auto fill your personal details during filling up the web forml? RoboForm is a password manager that can automatically help you to log in to web account with a click. Roboform memorizes each user name and password during first times you log into a site and will automatically supplies when you return to that site. All passwords are encrypted on the computer with military-level encryption using your master password. Beside that, it also features with automatic form filler that uses AI to populate common form fields like name, address and etc when you need to fill in the web form.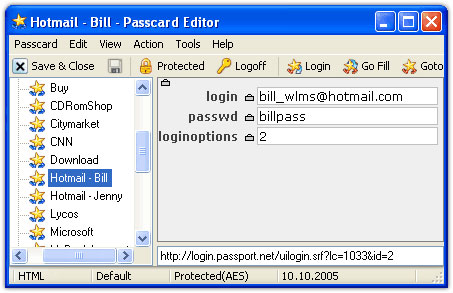 The below is the list of the summary features of Roboform:
Remembers your password and logs in automatically.
Fills long registration and checkout forms with one click.
Encrypts your password to achieve complete security
Generates random secure password to maximize password strength.
Defeats Keyloggers by not using keyboard to type passwords.
Backup password and copies them to other computers.
Using GoodSync to Synchronizes the password between computer.
RoboForm2Go runs from USB key, no need to install.
Synchronizes the password to windows mobile or palm.
Work with Internet Explorer, AOL/MSN and Firefox.
IE7 and Vista are fully supported.
Currently, Roboform are available in two version, free and pro version. The above mention features are available in both version. The free version is not offers for government or business use.