Google has quietly unveiled its next level of search engine program called Google Merchant Search. Generally, Google Merchant Search is a search platform which offers users a new and different way to find products or services from the providers. Based on the search result typed in by the user, Google Merchant Search will display a list of product/service providers that meet the user's search requirement. The user can have a quick glance at these providers and sort/filter them in accordance to the criteria specified. From the filtered result, the user can choose to contact any of the providers in the list directly for a more detailed quote. Otherwise, the user can leave his/her contact information and Google which function as a middle man between the service provider and the user will forward the user's request to the selected providers. Once there is a reply from the providers, Google's representative will connect the user to these providers. In this exchange, Google keeps the user's contact information and will not disclose it to the providers.

Google Merchant Search is a beta program which is currently only available in UK. In this current testing state, this new program can only conduct searches for secured loans from financial service providers in UK. Users can see the demo shown in the photos below.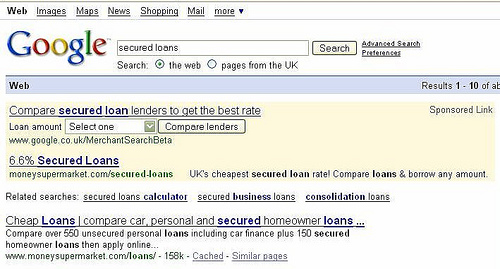 Users use the Google search engine to search for a Secured Loan. Users can use the Google Merchant Search to compare loan lenders to get the best rate.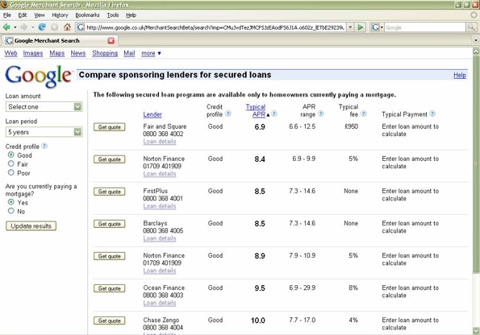 A list of loan lenders with relevant information will be shown once users proceed with the search via Google Merchant Search.
The emergence of Google Merchant Search has enhanced users' product/service searching experience. With the search result, users can easily compare the pricing and service. However, Google is also in a dilemma after introducing this new service. With Google Merchant Search, the existing search mechanism might be in jeopardy. Google's highly profitable Search Engine Marketers which bring in traffic and benefit the tripartite network of advertisers, publishers and Google itself is threatened. When users click on sponsored listings, Google makes money; likewise, the advertisers profit when there is high traffic while website publishers profit when their sites attract traffic. Google's organic search results bring many visitors to the sites. At the same time, many visitors are channeled to certain network sites via AdWords. Thus, businesses benefit from Google but the mechanism also puts the relevant business models at risk for they depend solely on Google. When the centre breaks, things fall apart.