To regain its popularity and market share in the mobile phone industry, Motorola, took a significant move by unveiling its new mobile device that can play live television, namely Motorola Mobil TV DVBH Compatible DH01. The world's third largest mobile phone maker made this announcement in conjunction with its participation at the International Consumer Electronic Show (CES) in Las Vegas.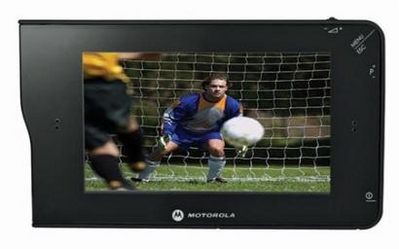 The American multinational communications company in its press release revealed that this lightweight pocket sized personal media player can play live television, on-demand video clips and also programs saved on digital video recorders. Motorola believes that this new mobile solution is well positioned to drive lifestyle changes by enhancing consumers' choice, convenience and control over their personal media experiences. For service providers and broadcasters, Motorola's end-to-end mobile TV solution will also enable differentiation and attract new revenue opportunities.
Motorola's Mobile TV DH01 supports DVBD broadcasting standards in addition to open standards interfaces across devices, networks and application service platforms. The Mobile TV DH01 will be smaller than a paperback novel, but have a high quality 4.3 inch Wide Quarter Video Graphics Array Screen that supports up to 16 million colors. It also includes a five-minute memory buffer for pause during live TV viewing. The summary of this new mobile device's features are as follow: –
• Live digital video broadcast – high technology video signal playback, indoors or outdoors
• Record TV on supported Secure Digital/MultiMediaCard card; 90 minutes of TV video on a 256MB card
• Convenient automatic channel scan and channel listing
• High resolution display
• Stunning digital video quality @ 25 fps
• Video, music and pictures on your supported Secure Digital/MultiMediaCard cards
• Long lasting rechargeable battery delivers up to four hours of playback time
In fact other cell phone makers such as Nokia, Samsung Electronics and LG Electronics have also offered mobiles that can play live TV. The famous Apple's iPod and iPhone do allow users to download video but they don't support live TV. Undoubtedly mobile devices with live TV are a breakthrough for phone makers as well as media, but it is always a big question mark whether mobile phone with live TV will get good response from consumers.