A-one DVD Tools is a software discount package that includes A-one DVD Copy and A-one DVD Ripper. A-one DVD Copy, as its name implied, is a backup ripper to back up the favorite DVD movies to DVD or hard drive in order to protect and saving original disc from scratch. A-one DVD Ripper meanwhile able to convert DVD to DivX, XviD, AVI, iPod, PSP, 3GP (for mobile cell phone), Pocket PC (PDA), VCD, SVCD and other video media formats. Both A-one Tools supports ripping and reading from CSS (Content Scrambling System), Region, MacroVision, Sony Arccos protected DVD discs.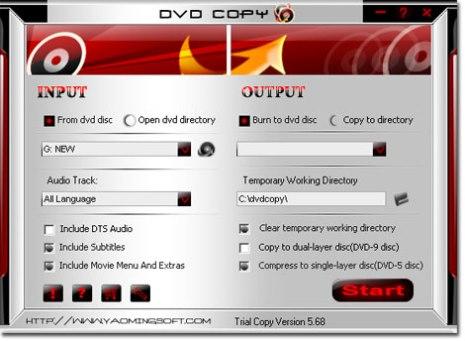 Features of DVD Copy:
Just takes 30 minutes to backup a DVD disc.
Backup DVD movies onto your hard disk, useful and great for laptops.
Burn DVD movies to DVD-R(W) and DVD+R(W) disc.
Support copying DVD-5/DVD-9 type DVD movies to DVD-9(Dual Layer) disc.
Support compressing DVD-5/DVD-9 type DVD movies to DVD-5 disc.
Keep or remove audio-tracks or sub-titles of original DVD movies.
With latest industry standard compression technology to ensure the DVD disc you create with best quality.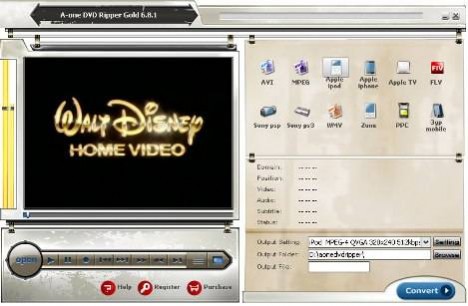 Features of DVD Ripper:
Convert DVD to AVI, DivX, XviD.
Convert DVD to VCD, SVCD, MPEG by custom file size.
Convert DVD to iPod, PSP, 3GP, Pocket PC.
Support choosing subtitle and audio track to rip.
Support setting Beginning and Ending point to rip.
Support ripping region protected DVD movies.
Support ripping Macrovision Protected DVD movies.
Support automatically shuting down your computer after long time conversion.
The A-one DVD Tools with DVD Copy + DVD Ripper costs $51.95 to buy as a package. But for today it's free, thanks to Giveawayoftheday.com. User who wants to take advantage of the free license with genuine legitimate registration serial key code for A-one DVD Tools must download and install the DVD Tools by today (July 7, 2008). The setup installation package by GOTD, AoneDVDTools.zip, requires user to go through activation, which will fail once expired.
After installation, two programs – DVD Copy and DVD Ripper – will be installed as a trial version with some function limitation and number of times used restriction. To convert to full version licensed copy without any restriction, limitation or expiry date, click on "Register" button on program interface and then enter the following license code:
A-one DVD Copy
Registration name: Giveawayoftheday
Registration key (serial code): 40BA3A129AC04A2D892D8C2830EEC68F3DA9069911C130A1
A-one DVD Ripper
Registration name: Giveawayoftheday
Registration key (serial number): 6B8325570F92D8586023669619EB40BB1AC7647486D6BF47
For user who doesn't manager to install the software package today, or need to reinstall the A-one DVD Tools in future due to reformatting or hard disk crash, download the official setup installer for A-one DVD Tools from yaomingsoft.com.