Smartphone has becomes an all-in-one personal digital assistance and with its built-in camera module, some tasks such as setting up contact lists could be handy and easier. And that is what the new app is designed for. Named as ABBYY Business Card Reader, it is a tiny utility released in App Store that can be installed into iOS device to enjoy such function.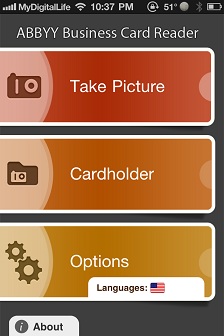 On first glance, ABBYY Business Card Reader App quite neat with mainly three buttons namely Take Picture, Cardholder and Options. To operate, simply tap on Take Picture will activate built-in camera module and point it to any name card, tap on capture button will capture and scan the image, then convert the data electronically ready for storage. Impressively, it will analyze and give the best guess and then fill the necessary information in the right field such as name, company, contact number in seconds . On top of these, it even offers the capability to search for additional information via social networking services such as Facebook, web and even location on the map.
Just imagine, how nice would that be if you have plenty of name cards waiting for fill-in and just point and shoot will save all your hassles. If for any reason you need to refer back to original one for further clarification, head over to Cardholder will do. Currently ABBYY Business Card Reader is already available in App Store for free trial with limited features and full version will cost $4.99.