Many Google Accounts particularly Gmail users might like to use the integrated application, Google Calendar, to do event or time management. This free web application offers quite a handful of features for users to manage their upcoming events, e.g. calendar sharing, event alert, etc. This application initially was only accessible when it is connected to the internet. However, a couple of weeks ago, Google offered users the opportunity to continue enjoying this app even when in offline mode via its Google Calendar Offline Beta. With this service, users can still view planned schedules and events even when offline but cannot edit them. Apart from using the offline Calendar service, users can also try another new desktop utility called GMinder which gives users quick access to their Google Calendar when they are offline.

GMinder is a small system tray application which allows users to download their recorded or scheduled events without opening the browser. The set up is pretty simple and straightforward. Users just need to provide their Google Account's username, type in the password, and follow this with a click to the "Download" button. The app will thence display the list of events from the calendar. Users can select the ones they want to display. With Gminder, users can add new events, delete an event, or be alerted on upcoming events.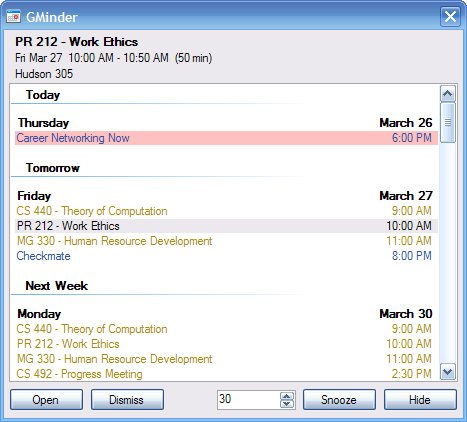 Users who need an assistant to support their Google Calendar can download this application via the link here. GMinder however only works for Windows OS but not for others. Furthermore, GMinder requires Microsoft .NET Framework version 2.0 to support. If users do not have .NET 2.0 framework, the program will prompt users with a message "The setup requires the .NET Framework version 2.0. Please install the .NET Framework and run this setup again" during installation. This problem is mainly faced by Windows XP users as Windows Vista has the .NET 2.0 framework built in.