The leading on-demand vendor of integrated business management application suites for small and medium-sized businesses, NetSuite Inc, has launched its latest version of the company's software-as-a-service online suite, NetSuite® 2007.0, recently. With this latest version NetSuite 2007.0, its users can start accessing NetSuite's hosted mid-sized businesses applications suite via Apple iPhones.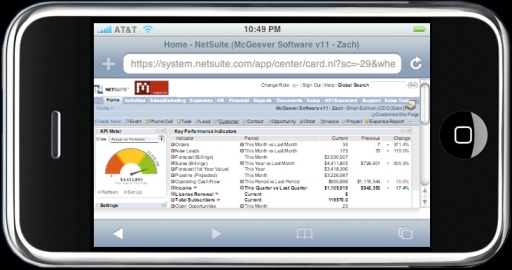 NetSuite 2007.0 encompasses hundreds of new features and enhancements. It supports the recent released Apple's Safari web browser through it SuitePhone application. Via SuitePhone, users can run NetSuite and its business Operations from Apple iPhone. Users can log their NetSuite accounts through SuitePhone with their iPhones and access the vendor's hosted ERP (enterprise resource planning), CRM (customer relationship management) and electronic-commerce functionality. Read MORE about SuitePhone.
Many iPhone users have responded positively to this service. They are impressed with the NetSuite functionality and are able to use the business applications without downloading additional software. If the workout with iPhone is successful, NetSuite will reconsider the tie up with other devices such as BlackBerry and Treo on the online NetSuite applications.