Zoho has released private beta of its webmail application which called as Zoho Mail. It has offers some great features like support offline mode, support folder along with label and integrate with others application. With the offline features, it allows the user to access their mail when not connected to Internet. To use Zoho Mail in offline mode, the user need Google Gears installed on browser (IE or Firefox). Once permit to access, their mail will be accessible offline. They can choose to download images and attachments as well as in the offline mode.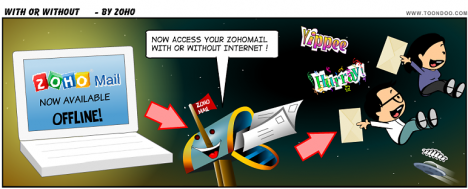 Another feature of Zoho mail is supports folders (Example: Outlook) along with labels (Example: Gmail). Beside that, in conversation, responses are listed hierarchically so that the user can look at a conversation and visually see who responded to whom. Zoho Mail also has Zoho Chat integrated together with other applications like Zoho Business, Zoho Docs etc. The chat window is placed at the bottom and has a contact search form as well.
Zoho Mail is also available for iPhone which the user need to login to zoho.com from iPod. Once they login, they will find the mobile version of Zoho Mail optimized for the iPhone.
Currently,  Zoho Mail is available free sign up at mail.zoho.com.