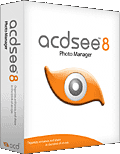 ACD Systems has announced a new version of ACDSee Photo Manager 2009 for its photo management software ACDSee. However, as part of the promotional offer, ACDSee has given away an earlier version for free – the full version of ACDSee 8 Photo Manager German version with genuine working license code. ACDSee 8 Photo Manager is a comprehensive photo management software that can use to view, managing, edit, and burn the photos or images. In addition, it also comes with Quick Search bar, support full IPTC metadata, photo captioning, create VCD (Video Compact Disc) slide shows, and Photo Repair Tool that able to remove flares, lens scratches and fix red-eye.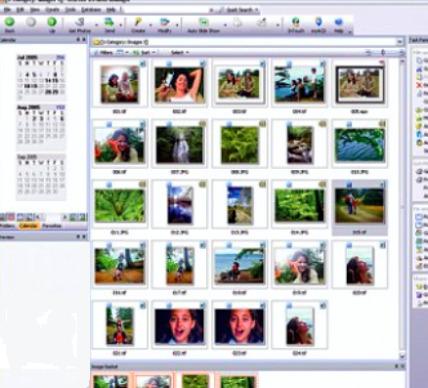 Features of ACDSee 8 Photo Manager:
Organize pictures into a photo album
Create inspiring Flash slide shows, screen savers, or on-line photo albums
Share photo albums with friends and family online or by e-mail
Burn photos to CD or DVD and create backups
Getting photos with download images from digital camera, scanner, mobile phone, or other removable device and capture images
Viewing images and media files
21 additional image effects and a text tool with drop-shadow and bevel options
ACDSee 8 Photo Manager normally cost $49.99 for purchase and $39.99 as an upgrade from ACDSee 7. ACDSee 8 Photo Manager is currently available for free download for a limited time only. Interested users can download and install ACDSee 8 Photo Manager with a genuine serial number for free.
To grab a free license of ACDSee 8 Photo Manager, follow these steps:
Note: User will need setup installer of ACDSee 8 Foto Manager German version included in cover discs of various German magazine.
Go to the following URL:

http://de.acdsee.com/covermount/pcpraxis/84376

Or,

Fill in the valid email and then click Abschicken button.
An email with serial number for ACDSee 8 Photo Manager will be sent to the registered email address.
Note: The serial key number only works with German version of ACDSee 8.1 Foto Manager standard edition distributed via cover discs of various German magazine only. User will need to have the setup installer of the ACDSee 8 Foto Manager 8.1.100 (v8.1 build 100) Deutsch named setup.exe wit file version of 8.2.160.0 and file size of 13.754.064 bytes for activation and unlocking to work.

Setup Installer: acdsee81deutsch.exe

Enter the serial number during installation to activate the full version of ACDSee 8 Photo Manager.
Note: Offer ends on 29 January 2010
Once have you gotten above steps done, you are entitled to have full version of ACDSee 8 Photo Manager. ACDSee 8 Photo Manager supports Windows 98 Second Edition, Windows 2000, Windows Millennium Edition, Windows XP, and Windows Vista.