Acer has announced a special edition of its Liquid E Android smartphone which is known as Acer Liquid E Ferrari Special Edition. The Acer Liquid E Ferrari is an exclusive smartphone which has been designed to target those who refuse to settle for mere perfection and demand something extra from their technological devices such as passion, cutting-edge technology, performance and etc.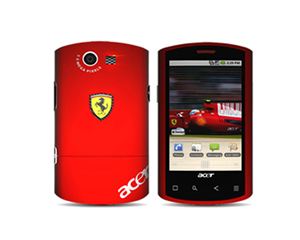 Key features of the Acer Liquid E Ferrari Special Edition includes:
3.5-inch high-definition (WVGA) capacitive screen.
5-megapixel camera with auto-focus and geo-tagging functions.
Powered by Qualcomm snapdragon 8250 processor and runs on Android 2.1 Eclair Operating System.
Preloaded with the superb Acer Media Player widget that gives the users instant access to all their digital media and the Acer Web player widget that lets them thumb through page previews of their web bookmarks.
Provides a whole new level of instant communication and social media with the latest Facebook and Twidroid applications.
Exclusive Spinlets application provides free streaming of worldwide music that can be shared with friends and family via the web or e-mail.
'Fooz Creator' lets user create a "virtual look-a-like", or their Fooz Avatar, and share it on Facebook, MySpace and other social networks as well as email it to their friends.
Unique and lightweight Ferrari design with just 135g.
The price and the availability of the Acer Liquid E Ferrari Special Edition are not yet announced.