Converting a PowerPoint .PPT presentation to video in .AVI, .MPG (MPEG), .MP4, CD, DVD and other formats is not an easy task. However, with the help of PPT PowerPoint presentations to video, Flash or CD/DVD converter software, the job can be done rather straight forward and quickly. Unfortunately, most of the PPT to video converter is not free, and some priced rather out of range at ridiculous price.

Thanks to Giveawayoftheday.com, everybody can now download and install Acoolsoft PPT2Video Convert for free. Acoolsoft PPT2Video Converter is an innovative tool helps you easily convert your PowerPoint to video. With only 3 steps, users can convert your PowerPoint presentations to almost all popular video formats such as MPEG, AVI, MP4, WMV, MOV, 3GP with excellent quality.
Features of Acoolsoft PPT2Video:
Retain animations, transitions, sounds and movie clips.
Support conversion of PowerPoint .PPT, .PPS, .PPTX and .PPTM slideshows and presentations to popular video formats such as MPEG-1, MPEG-2, AVI, MP4, WMV, MOV, 3GP, and specific video formats to show on Apple TV, iPhone, iPod, Zune, Pocket PC and Blackberry.
Easy step-by-step guide conversion.
Suppport batch conversion with up to 9 PowerPoint files can be converted at a time.
Support Microsoft Office PowerPoint 2007, 2000, 2002 (XP) and 2003.
Support audio tracks in presentations.
Audio volume control.
Customizable frame, bit rate, video encoder and audio encorder. Constant bitrate also supported.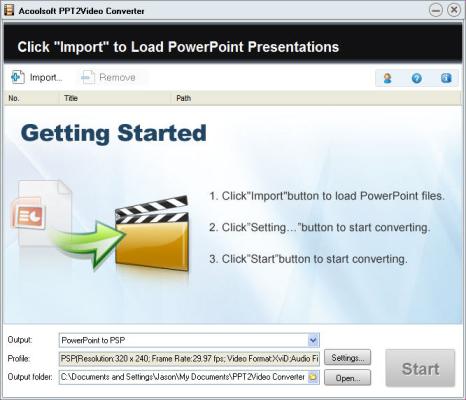 Users who want to the free license with registration code to use Acoolsoft PPT2Video with no time restriction (no expiry date) and no function limitation (actually the trial version of Acoolsoft PPT2Video is not going to expire too, but will has watermark on video output), user have to download the free Accolsoft PPT2Video setup installer from Giveawayoftheday.com, and then activate and install the software by today (July 14, 2008). Normally, Acoolsoft PPT2Video is priced to reduce customer's net worth by $49.95.
Note that Acoolsoft PPT2Video Converter requires an existing installed copy of Microsoft Office PowerPoint to work properly. Users in Windows Vista has to run "Activate.exe" as administrator to input the necessary licensed e-mail address and registration code. Else users will end up with a trial version to use.
Users who has problem activating the free copy of Acoolsoft PPT-to-Video Converter can register the software using the following serial key number. It also works for users who wants to backup the license information to future restoration or install the software in future when needed, by installing the application using trial version installer from www.ppt-to-video.com (current version 1.6 direct download link: ppt2video_converter_trial212.exe).
License Email Address: giveaway@giveawayoftheday.com
Registration Code: 403205C43B0561629ABA
Acoolsoft PPT2Video Converter supports Windows 2000/XP/2003/Vista.