Despite the increasing complexity of security measures to prevent, detect and remove malicious programs, spyware, viruses, etc, computer crime is hot on their heels and becoming more sophisticated and prevalent. Popular social networking sites such as Twitter, Friendster, Facebook, etc are common targets for cyber criminals. They provide a rich treasure trove for phishers and hackers as personal information is readily available and guards are lowered in these social websites. Hence it is always a good idea to fully capitalize and utilize the security features which are available to minimize hackers' attack and invasion. Some Facebook enthusiasts are probably not aware that this site offers a pretty good feature which can inform users of logins to their Facebook accounts from mobile devices or other computer systems. With a simple activation, users will be notified when hackers or others access their Facebook account from other devices.

To configure and activate this notification of unauthorized access, users need to log in to their Facebook account and go to Account Settings which is located at the upper right corner on the main page. Users will thence be led to their own "My Account" configuration page. Look for "Account Security" under the setting tab as shown in the photo below: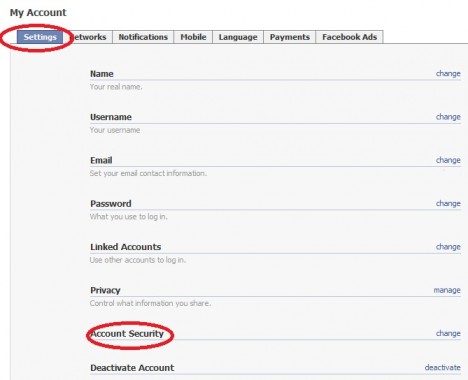 Users need to click the "Change" item and an instruction message which reads as follows will be shown:
"To help keep your Facebook account as safe as possible, we can notify you when your account is accessed from a computer or mobile device that you haven't used before."

Check the "Yes" option and click the "Submit" button to proceed. Once it is done, users need to log out from their Facebook account. In the subsequent login, Facebook users will be prompted a message which requires users to register the current machine which users use to log in to this social network site.

Type in a Computer name for the machine that you use to login your Facebook and click "Save" to proceed. In the event users themselves or other people log in to the same account via other machines, registered Facebook users will be notified with email as an additional security measure.