Ad-Aware Pro Internet Security is a comprehensive anti-spyware software from Lavasoft that provides protection against spyware, Trojans, virus, adware, rootkits, hijackers, keyloggers, malware, and other potential cyber threats to enhance PC performance.  Ad-Aware not just blocks nuisance ads but also protects online security and data privacy. With Ad-Aware Pro version, users able to stay safe on social networking sites, control privacy, and clean or restore system. In addition, it also supports automatic pulse update and technical support.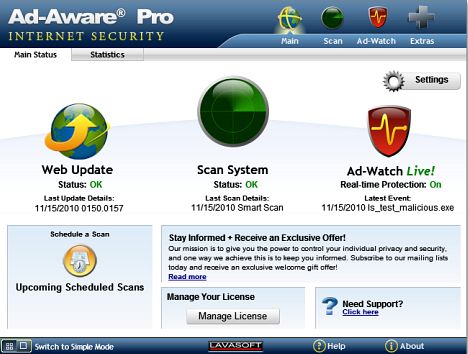 Features of Ad-Aware Pro Internet Security:
Complete Malware Protection, including Anti-Virus and Anti-Spyware
Ad-Watch Live! Expert Real-time Protection
Genocode Detection Technology
Behavior-Based Heuristics Detection
Rootkit Removal System
Expert Level Rootkit Removal System
The Neutralizer Malware Removal Tool
Download guard for Internet Explorer
Toolbox including Process Watch, AutoStart Manager, Hosts File Editor, and ThreatWork
Network Drive scanning
External Drive scanning
Pin-Point scanning
TrackSweep
Full integration with Windows Security Center
Technical support
Automatic pulse update
Ad-Aware Pro Internet Security normally costs $29.95 per single license. As part of New Year promotional offer, Lavasoft is giving away a limited number of Ad-Aware Pro 6-month licenses. To grab and download your free Ad-Aware Pro Internet Security, follow these steps:
Visit the promotional page at the following URL to register:

http://www.lavasoft.com/single/free_6_months/

Fill in the form by enter the name, email address, and other information, and then click on the button.
An email will be sent to registered email containing the registration key for Ad-Aware Pro Internet Security.
Download Ad-Aware Pro Internet Security setup installer: Ad-Aware90Install.exe
Install Ad-Aware Pro and restart the PC, then enter the activation key received to enjoy the fully licensed Ad-Aware Pro Internet Security.
Ad-Aware Pro Internet Security supports Windows 2000 Pro, XP (32-bit), Vista (32/64-bit), and Windows 7 (32/64-bit).