Net users who spend a lot of time browsing the internet would surely come across a lot of useful information where they can easily capitalize on or tap into to assist them in work or other things. However, since resources from the internet are numerous and extensive, collecting and managing this information for later use is always a challenge for users. Users can save the site content or bookmark the site and view it later. This approach is rather useful but the sites that you have saved or bookmarked can't be easily recalled if you use other computers. To resolve this problem, a browser add-on such as the Evernote Web Clipper extension can be quite helpful.

The Evernote Web Clipper extension is a useful add-on for the Google Chrome browser. With this application installed, users can easily save any information, web contents and web URLs into their Evernote account, a free web service which allows users to collect, sort, tag and annotate notes and other miscellaneous information. To use this facility, users can add this extension to their Chrome browser. Once it is installed, there will be a new icon added into the Chrome address bar. Users need to register and open an Evernote account before using it.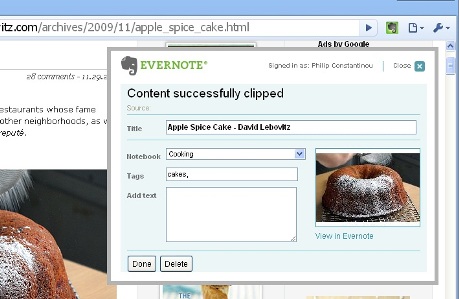 Screenshot
When users come across any interesting stuff from the Internet, users just need to highlight and click on the Evernote Web Clipper icon at the browser address bar to clip these items and save them in the Evernote account. This facility will record the site content and URL accordingly. Users can manage their records by adding in tags, descriptions, etc for easy reference in future. When users access their Evernote account via other computers or even via the mobile phone, they can easily open up their saved records and access to these clipped contents conveniently.