Many Facebook users enjoy chatting with their confirmed Facebook friends using the Facebook chat feature by clicking the Chat menu at the bottom right of any Facebook page. The Facebook chat tool offers various features such as clear chat history, block a friend from chatting, hide online status, and so on. However, some users who want to save their older conversations or conversations with friends who are not currently online will have problem as Facebook has yet to include this capability into its Facebook Chat feature. For some reasons you might want to save your Facebook chat history for future reference; what can you do then? If you are using Firefox or Google Chrome browser, the browsers' add-on, Facebook Chat History Manager, will be able to help.

Facebook Chat History Manager is a free Firefox extension which can save users' Facebook chat contents in the local environment. The Facebook chat records will be indexed by friends' names and time. Users can trace back the chat history whether online or offline. All the conversation messages are securely stored and a password is required to view the saved messages as a security measure to control access. This application supports both Firefox and Google Chrome browser.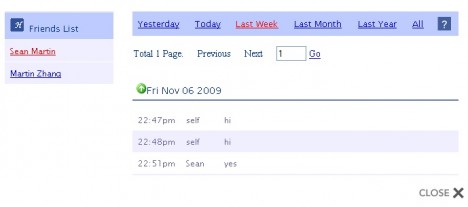 Google Chrome users can go to the installation page to download, install and create an account so that they can retrieve and read their chat history. Firefox users can go Mozilla to get this add-on application and download/install this application. Similar to Google Chrome, once this add-on is installed to Firefox browser, users need to create an account (Tools-> Facebook Chart Historry Manager menu). To open this account, of course users need to get the ID. Users can go to Tools -> Facebook Chat History Manager, select Facebook ID, then login to Facebook to get the facebook ID. Once the account is created, users can go and view the chat history as and when they need. They can change the account setting and application preference accordingly.