Browsing the net for your research may produce so much information that you may not have the time to read it all. It would be helpful to have a software application which can read out text as you browse for information. This will save a lot of time and reduce the strain on your overworked eyes. It could also be a useful tool for the visually impaired as they can access information more easily. FoxVox is a text to voice plugin for Firefox which can function like a faithful assistance to read aloud text for you from your screen.

FoxVox can be easily added to the Firefox browser and acts as a spokesperson for users. Once this plugin is installed, users will see a few new items added to the shortcut menu when users right click their mouse, e.g. Speak Selected Text, Stop Speech and FoxVox. To let the FoxVox read the content for you, users just need to highlight a particular sentence, paragraph or the whole page and right click to select: Speak Selected Text. The application will start reading the highlighted texts in the typical digitalized tone. The reading is pretty clear and the pronunciation is easy to understand.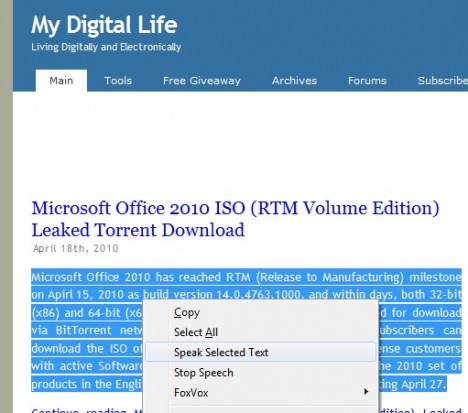 Besides converting text to voice and reading aloud for users, FoxVox also allows users to convert highlighted texts to voice and save them into audio files. There are three different formats which users can save the audio files: wave, mp3 and ogg. With this feature, users can easily save some interesting articles, blog posts and other web contents into audio formats and share with others especially those who are visually impaired.