The beauty of email notifier programs is to keep users instantly notified when there is new email received in your Inbox. It saves users time and the hassle of having to log on to the web based email account to do the checking. Due to the popularity of Google Mail (Gmail), users can easily find a notifier program for Gmail such as Gmail Notifier, Google Talk, Scott Gmail Alert, Spiffy, gTray, etc. However, Hotmail users would probably agree that it is quite difficult to get a notifier program for the Hotmail service. Check out Hotmail Watcher, a Firefox add-on that can monitor your Hotmail Inbox and alert you accordingly if you need an instant notification when receiving new email.

Hotmail Watcher is a free Firefox add-on that can keep watch of users' Hotmail inbox and report to users in status bar. Unlike other notifier programs which need users to log in their username and password, Hotmail Watcher does not require any sensitive information from users. This Firefox add-on technically retrieves information from the browser cookie. Hence, users just need to log on at the Hotmail site before Hotmail Watcher can do its work. As long as users stay logged on, this add-on application will work; if users log out from the Hotmail website, the extension will automatically log out as well.
Once Hotmail Watcher is installed, there will be an icon with a counter added in the Firefox status bar. Users can left click at the icon on the status-bar to reset counter and open the Hotmail website; right click at the icon on the status-bar to open the popup menu to change options; and, middle click at the icon on the status-bar to check email immediately. Users can configure this hotmail notifier program to check Hotmail at specific intervals ( 5 min, 10 min, 15 min, 20 min, 30 min, 1 hour, 2 hours, 3 hours, 4 hours, or manually). Other than that, users can set options to alert users via sounds, display or blink.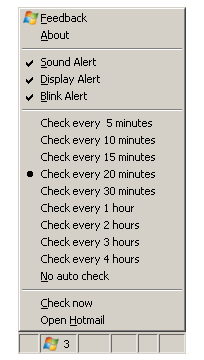 Firefox users can add the Hotmail notifier program, Hotmail Watcher, from Mozilla site via the link here.