The current Harry Porter or Sexy Babe Personas skin for your Firefox browser might no longer look eye-catching. You have always wanted to change the skin and make your browser look cool; however, it takes a certain resolution and initiative to keep changing the Firefox browser's appearance regularly. If that is the case, it is probably time to add Personas Rotator, the ideal Personas Firefox add-on to your Firefox browser.



Personas Rotator is an interesting Personas skin coordinator which can change the Personas skins in Firefox periodically. It functions similarly like a wallpaper changer. Instead of changing the desktop wallpapers, Personas Rotator swap the Personas skins periodically on Firefox and keeps the browser looking novel all the time.
To install the Personas Rotator Firefox add-on to the browser, users will need to first install Personas Plus. Users are thence required to log in to the GetPersonas site and have favorites in the system whereby the add-on will try to rotate your My Favorites personas. Users can go to the Personas Rotator settings menu to change the default rotation interval time from 1 minute to longer durations and set the Personas categories to be used.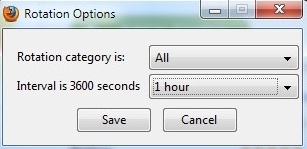 Set Rotation Timing
Personas Rotator Firefox add-on can easily make your browser look different and attractive. You can continue to enjoy internet browsing while seeing the Personas skins changing.