Various leaked photos of next version of Windows operating system, commonly known as Windows 8, shows that Windows Taskbar has new feature in the form of user picture tile. User tile of Windows 8 is displaying a picture or avatar of the currently logged in user in the notification area of Windows Taskbar.

The user tile allows quick access by just clicking on the box to various functions such as Control Panel settings, personalization, switch user, log off and lock PC.
For Windows 7 or Windows Vista users who cannot wait to experience the next generation Windows 8, a developer named Angel of Despair (Stealth2010) at My Digital Life Forums has developed a small utility named Taskbar UserTile that able to add avatar or display picture of currently logged in user to Windows Taskbar's notification area, just like User Tile of Windows 8.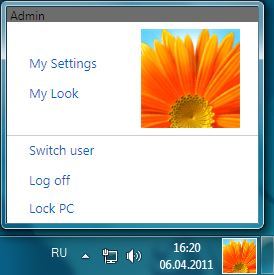 In addition to ability to use system's user picture, Taskbar UserTile allows user to manually set custom or own photo for display as the user tile via manual configuration in config.ini (by default a picture in Resources folder is shown), and it supports showing of dynamic or animated video as user picture via WMP (Windows Media Player) engine.
The UserTile app still has a limitation, where it only works when the Taskbar is placed at the bottom of the screen, though it now supports both standard and small-size Taskbar.
TaskBar UserTile has gone through several enhancement and bug fixes and its latest version can be downloaded from My Digital Life Forums.
Once downloaded the 7z ZIP package, extract and unpack the contents with 7-zip File Manager to a location where you want to keep the program files. Then just run UserTile.exe executable. Optionally, delete (to use system user picture) or edit config.ini to set your preferred user tile picture. Note that UserTile has to be re-run on each reboot. Thus, in order for the user tile to appear everytime system is restarted just like Windows 8, place a shortcut to UserTile.exe in "Startup" folder of Start Menu.