Windows 7 has a feature that will automatically lower the volume level of different sounds when Windows 7 detects user is placing or receiving a telephone call that routes through PC. The auto-adjust volume of sounds from other sources, leaving sound in communication channel at more audible level feature allows user to hear more clearly and with more clarity when engaging in voice chat through computer.

The feature of reducing volume of other sounds is useful to users who like to listen to music or MP3 via computer, or always watch latest blockbuster movies on PC. When a phone call is established or any communication activity is engaged, such as when voice chat through Skype, Windows Live Messenger (Chat), Yahoo! Messenger, Google Talk and etc, the volume of song or movie that is on playback will be automatically reduced, lowered or muted so that user can chat comfortably.
User who does not prefer the feature can turn off and disable automatic volume change, or user who want to change the settings such as make the system mute or volume decrease lesser, there is a GUI that user change the settings related to communications.
Right click on Speaker icon on the Taskbar's notification area (system tray), and click on Sound. Alternatively, go to Control Panel -> Hardware and Sound -> Sound. Go to Communications tab.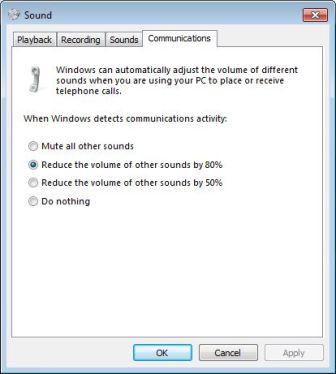 In the Communications tab, user can choose to mute all other sounds, reduce the volume of other sounds by 80%, reduce the volume of other sounds by 50% or do nothing (do not increase or decrease any volume) when Windows 7 detects communications activity.
There is lots more Windows 7 usage guides, how-to hacks, tips and tricks available.