Adobe Systems Incorporated has announced the new version of Adobe Director 11.5 software at the Game Developer Conference. The new adobe director is offers to game developers and multimedia authors for creating creative games and multimedia applications. The new audio engine, high-definition (HD) video and advanced 3-D features have been improved to provide a rich and flexible platform to create applications for online or desktop version.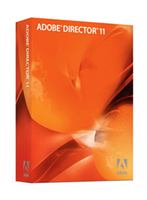 The new audio engine has been enhanced to include several features like supports 5.1 channel surround sound and create audio effects using real-time mixing capabilities. The high-definition (HD) video is able to support for H.264 format and RTMP-based streaming for deliver high quality video content.
In addition, the users can also create and import 3-D assets via Google SketchUp and SketchUp 3-D Importer. Apart of that, it also comes with advanced physics capabilities based on the NIVIDIA PhysX engine for users to create more life-like effects application or games.
According to Naresh Gupta, senior vice president, Print and Publishing at Adobe. "Director 11.5 is a significant milestone in our mission to deliver an advanced set of audio and video features for game developers and multimedia application authors". "With the brand new audio engine in Director 11.5 along with high quality video, developers can now create 3-D online gaming experiences that are simply unparalled in this space".
The new Adobe Director 11.5 is expected to be available at end of March and is priced at $999 for the full version and $299 for an upgrade version as well as offers full version at $299 for educators. The product is able to supports multiple platform which include Windows XP with service pack 2, Windows Vista and Mac OS X version 10.5 on Intel based Macintosh systems.