Adobe Creative Suite (CS) 5.5 is a significant mid-cycle product release that delivers essential innovation across Flash, HTML5, video, mobile app for smartphone or tablet and digital publishing tools, with an additional introduction of new monthly and yearly subscription payment plan in addition of buying a license outright. The CS5.5 update applies to all five Creative Suite packages: Master Collection, Design Premium, Web Premium, Production Premium and Design Standard, each of consists of various individual software titles such as Photoshop, Premiere Pro, Illustrator, Flash Professional, Flash Builder, Flash Catalyst, InDesign, DreamWeaver, Fireworks, After Effects, Acrobat and more. Not all individual products are been upgraded to version CS5.5 though.

New features and enhancements in Adobe CS5.5:
Enhanced Multiscreen Preview panel to view website designs as they would appear across desktops, smartphones, tablets, and televisions.
Robust jQuery support.
Support for more mobile platforms and devices including Android, RIM, iOS, webOS, and Adobe Digital Home.
A more efficient video workflow.
Action Wizard in Acrobat Pro to automate routine and multi-step PDF tasks.
Advanced audio-for-video editing.
Folio Producer tools in InDesign.
Mercury Playback Engine.
Enhanced eBook authoring in InDesign.
Enhanced creative freedom on the go.
Rapidly develop cross-platform web, desktop, and mobile applications, leverage a common Flex and/or ActionScript codebase to write apps for Android, iOS, and BlackBerry, while sharing code from web and desktop apps with Flash Builder 4.5 Premium.
All suites of Adobe Creative Suite 5.5 is scheduled to ship by May 2011 through Adobe Authorized Resellers, the Adobe Store at www.adobe.com/store in North America and Adobe Direct Sales, with trial downloads available by then too.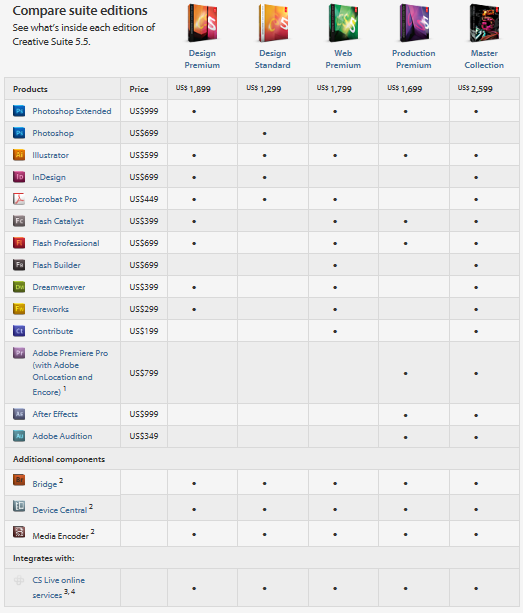 If you can't wait for the official downloads of trial version of Adobe Creative Suite 5.5 to be published on adobe.com, the Adobe CS5.5 Master Collection has been leaked by WZOR to the Internet for download via BitTorrent network and file sharing network. The leaked download also contains a XForce keygen (key generator) for the Adobe CS5.5 and instruction on how to disable and bypass Adobe CS5.5 activation requirement.
The Adobe Cs5.5 Master Collection is the ultimate edition which contains comprehensive software tools from Adobe, namely Photoshop CS5 Extended, Illustrator CS5, InDesign CS5.5, Acrobat X Pro, Flash Catalyst CS5.5, Flash Professional CS5.5, Flash Builder 4.5 Premium Edition, Dreamweaver CS5.5, Fireworks CS5, Contribute CS5, Adobe Premiere Pro CS5.5, After Effects CS5.5, Adobe Audition CS5.5, Adobe OnLocation CS5, Encore CS5, Bridge CS5, Device Central CS5.5, Media Encoder CS5.5, and integrates with CS Live online services.
Download Adobe CS5.5 Master Collection (Windows) English
File Name: MasterCollection_CS5_5_LS1.exe
Size: 1,228,632 byte
CRC: FB3C1AF6
MD5: 86A348A8BE4BBC49C62550FA2A1F7155
SHA-1: CD278FAF1CFB63C2DE7783F3E47ADC34214D0739
File Name: MasterCollection_CS5_5_LS1.7z
Size: 5,435,497,847 byte
CRC: 18010B3B
MD5: 4A42792A02726BF6449363900B6CC074
SHA-1: 763C64F6304A1A7239DE1CBF200E4CE144BC4273
BT Torrent: ADOBE.CS.5.5.MASTER.COLLECTION.ENGLISH.WIN.ESD.KEYGEN-XFORCE-WZT.torrent
Update: All products and suites of Adobe CS5.5 for download.
Update: Adobe CS5 suites and individual products official download links.