Posted:
September 27, 2010
/
Under:
Operating Systems
/
By:
My Digital Life Editorial Team
The most popular consumer video editing software, Adobe Premiere Elements, has been upgraded to version 9. Adobe Premiere Elements is a scaled-down version of the professional-level Adobe Premiere Pro, and competes with other video editors such as CyberLink PowerDirector, AVS Video Editor, Pinnacle Studio, Sony Vegas Movie Studio, Sony Vegas, Corel VideoStudio, Final Cut Express and iMovie.

Adobe Premiere Elements 9 includes the following new features and enhancements:
Imrpoved state-of-the-art effects options to enhance movies with eye-catching visual effects and professional-quality audio.
Give movie an eye-catching cartoon look. Choose and customize from a variety of animation styles.
Easily share movie — complete with a scene index and chapter menus — on Photoshop.com or own website with a convenient, interactive web DVD viewing experience.
Conveniently share videos and photos on Facebook directly from the Organizer, which automatically optimizes media so it looks its best.
Relevant how-tos that appear just when users need them.
Easily reduce background noise and fix problems with audio volume and clarity for high-quality sound from start to finish.
Easily bring in video from compact camcorders like Flip cameras as well as from DSLR still cameras.
Improved performance when editing video, including HD video.
Supports Windows or Mac OS X.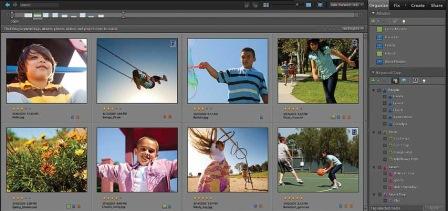 Adobe Premiere Elements 9 can handle unlimited video and audio tracks, with multiple keyframed effects applied to each clip. Premiere Elements 9 features real-time video rendering for user to instantly preview edits made to timeline, and can create bars and tone and a countdown leader, as well as has Picture-in-picture and chromakey capabilities. It also supports many third-party plug-ins for additional features, including Premiere Pro plug-ins, After Effects plug-ins, and VST effects.
Adobe Premiere Elements 9 is now available for both Windows and Mac OS X platform at $99.00
(aff) for single full version license. An upgrade license is priced at $74.00
(aff). There is also Adobe Photoshop Elements 9 and Adobe Premiere Elements 9 bundle deal, which is priced at $149.00
(aff) per full version license or $112.00
(aff) per upgrade license.
Adobe is offering free download of Adobe Premiere Elements 9 trial evaluation version for try-out. The trial version of Adobe Premiere Elements 9.0 is fully functional and offers full features of the product, no unlock required but expires in 30 days, though the trial installation can easily be converted to a purchased version with a purchase an activation product serial number or key code without the need to reinstall the software.
Tto download Adobe Premiere Elements 9 trial from Adobe, users are required to create or sign into Adobe account. There is a trick to bypass the requirement to create Adobe account though, by using the trick to download with the following direct download link to setup installers of Adobe Premiere Elements 9.
Adobe Premiere Elements 9 Direct Download Links
Important: For the direct download links of Adobe Premiere Elements 9 to work, downloader has to visit and click on "Try" link of at least one Adobe product in order to set the proper download cookies which permit direct download. For example, just click here, which is the link to download Windows version of Adobe Premiere Elements 9. Then, click on direct download link above, with no login necessary. If the step above still does not allow direct download, register and/or login to Adobe account. Otherwise, an "Access Denied" error message will be displayed indicating you don't have permission to access the file.
Language supported: English, French, German, and Japanese
Windows 1: http://trials2.adobe.com/AdobeProducts/PRE/9/win32/PremiereElements_9_LS15.exe
Windows 2: http://trials2.adobe.com/AdobeProducts/PRE/9/win32/PremiereElements_9_LS15.7z
Mac: http://trials2.adobe.com/AdobeProducts/PSE/9/osx10/PhotoshopElements_9_LS15.dmg
Mac OS X: http://trials2.adobe.com/AdobeProducts/PRE/9/osx10/PremiereElements_9_LS15.dmg
Note: The Windows version of setup installer contains 2 parts, which ends with .exe and .7z file extension. Both files must be completely downloaded and placed inside the same folder for the self-extracting setup to work.