When downloading a PDF file, one of its great advantages is its read-only feature which helps to maintain the original content and layout of the source material. However, this could be a bane for users who need to make any changes to the file; a likely option would be to retype the material but this could pose a real problem if the material is very lengthy. A PDF to word converter will be a great help in the instance you need to make changes to a PDF file. Adreamsoft has the answers in Adreamsoft PDF to Word Converter 2.0.

Adreamsoft PDF to Word Converter 2.0 is a powerful and efficient PDF to Word tool which empowers users to convert PDF documents inclusive of the encrypted ones into editable Word documents (Word 2007, 2003, 2002 in both .docx and doc formats) within seconds while maintaining high accuracy. The text contents, document layout, formats and images of the original PDF document are retained.
The Adreamsoft PDF to Word Converter 2.0, by allpdftools.com also features a simple, straightforward and user-friendly interface. The interface is well designed without excessive or cluttered icons. Users just need to click on "Add PDF Files" to load the file to the program and then click on the "Convert" icon to initiate the PDF to Word file conversion. To speed up the conversion process, users can add more than one file at a time and convert the files concurrently.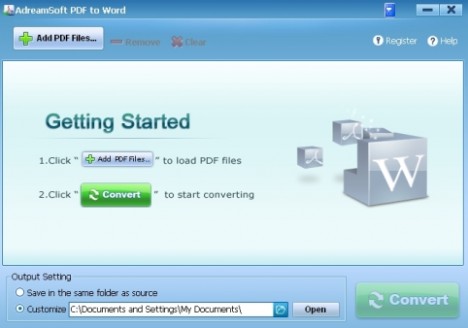 Click "Add PDF Files" to add document for conversion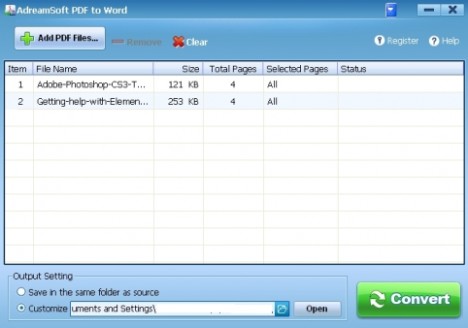 Click "Convert" to proceed with the conversion.


The conversion process is indicated in the progress bar.
The Adreamsoft PDF to Word Converter 2.0 is stable, reliable, and efficient. Unlike many other PDF to word converter applications which normally support a single language, this program supports multiple languages, e.g. English, French, Spanish, German, Italian, Dutch, Portuguese, and Chinese. Users can use this converter to convert encrypted (copy and print restricted) and password-protected PDF to Word documents as long as users have the password with them. The output is accurate and it offer users an option to flexibly convert all pages or selected pages in the original PDF document.


Users can type in the page number(s) to select particular page(s) for conversion only.
Adreamsoft PDF to Word Converter 2.0 (aff) where trial version (aff) free download available, works perfectly in the Windows platform such as Windows XP and Vista (32bit System). For a mere $29.95, users can get this converter to do some excellent work for them.
Disclaimer: My Digital Life gets a free license for review.