Advansus has just released a new Nano ITX based PC for industrial market. Nano ITX is a smaller form factor computer board proposed by VIA Technologies. Normal PC architecture will typically have Mini ITX for low power embedded segment. Known as NTC100-LX800, it can be targeted for industrial applications such as factory automation PC, Panel PC or other small form factor equipments.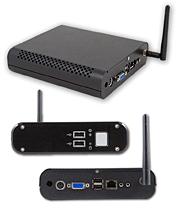 The device is powered by AMD Geode LX800 which is quite famous for low power embedded market. Running at 500MHz, it is more than sufficient for less complicated task processing especially in the consumer as well as industrial segments. The processor is about 1 watt which is extremely low power and is most suitable for small form factor and fan-less application. Besides, it is equipped with LVDS (Low voltage differential signaling) for external flat panel display connection. By having this feature, the BOM (Bill of Material) cost can be reduced for price sensitive end products. It is further supported by 10/100Mbps LAN (Local Area Network) Ethernet port for network connectivity. Optional available are the wireless LAN module through Mini-PCI slot for mobile network communication.
The device is weighted at only 0.7 kg with dimension of 144 mm X 42 mm X 170 mm. If you think the processing power is sufficient to run your home or mobile computing, you can just get one for your digital home use.