The privately owned software development company based in Thailand, Agilemobile.com Ltd. has announced that its voice stress analysis real-time lie detector application, dubbed as Agile Lie Detector, is now available for the popular Apple iPhone and iPod touch.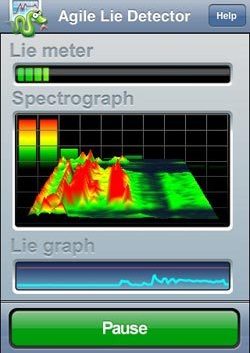 According to the company, "Agile Lie Detector uses technology called Voice Stress Analysis to detect the level of stress caused by lying in a person's voice. The same technology is used by military and law enforcement agencies throughout the world. The level of detected stress is displayed in real time on the display's graphs and meter. Voice Stress Analysis technology was originally developed for military and intelligence use, and now anyone with an Apple iPhone or iPod Touch can use the same technology to detect lying and deception."
In addition to Agile Lie Detector, the company also plans to release two additional applications for the Apple iPhone and the iPod Touch in the coming weeks – Agile Messenger and Agile Forces.
The Agile Lie Detector application is now available via Apple's iTunes App Store for about $8.