It is always good to be able to stream media files from PC to iPhone so that you can view the contents directly on iPhone with true mobility. In order to simplify this, here is a tiny utility that can stream audio and video on the air with direct format conversion on-the-fly without the need to first convert them separately.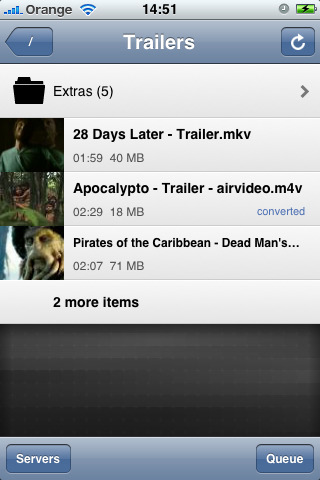 Basically users will need to download and install the Air Video server application on desktop where all the media clips are stored. On the other end, users will have to grab a free utility with the name of Air Video free from iTune in order to receive those streaming contents wirelessly as a client with simple setup. Once everything are installed, just launch and do simple setup on the Air Video Server. First, add the specific folders or even iTunes Playlists that would like to be shared. Then, on the iPhone client device, tap on Air Video Free (assuming that you have it installed and have either WiFi or 3G network On) to launch the interface. When comes to server selection, tap on '+' sign will prompt you with the machine name of your computer ready for session establishment. If everything is successful, you will notice the folder name (with number of clips) that is ready to be browsed and clicking on it will execute the media playback on your iPhone screen seamlessly. After a specific clip being highlighted, it will display all the detailed media information such as resolution, duration and file size, besides notifying you if the video clip needs conversion or can be played directly. On top of this, it even enhanced with video cropping, audio boost, qualify setting for offline conversion, bitrates for live conversion and many more so that you can configure it based on your network bandwidth and viewing preference.
This is quite a neat and simple solution to be able to share your personal clips directly streamed from your PC server and best thing is, it allows live conversion in background so you don't have to worry about format incompatibility and these apps will do the rest for you. Compatible to work with both Windows and Mac systems, the app is free for installation here (for Windows) and here (from iTunes) with only requirement of firmware version 3.0 and above on iPhone and iPod.