Alltel Wireless has recently announced the availability of Motorola MOTO VE465 phone. Motorola MOTO VE465 is a semi-rugged and entry level phone with Motorola flip phone design.
The phone comes with one unique touch which has two light modes that turn the phone and music keys blue or white, so the users can easily to switch between making a call and listening to tunes.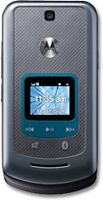 "The release of MOTO VE465 continues Alltel's commitment to delivering the most functional and stylish phones on the market to our customers," states Angela Rittgers, director of product management for Alltel Wireless. "Whether looking for a handset that excels in multimedia, data or voice, MOTO VE465 delivers a top of the line experience."
The phone is featured with a 1.3-megapixel camera with 4x digital zoom. It also equipped with a digital-music player, a color display, music control, speaker phone and external speaker to enhance the multimedia experiencing. In addition, it is Bluetooth enabled and supports a microSD card slot.
The Motorola VE465 phone is available at Alltel Wireless retail outlets and online at shopalltel.com. It is priced at $50 with a two year service agreement after the instant rebate.