The owner and operator of the nation's largest wireless network, Alltel Wireless has announced the launch of new Samsung Delve, the touchscreen phone which highlighted by virtual QWERTY keyboard and tactile feedback, available now for pre-sale at Alltel's official website and will hit Alltel stores starting November 6.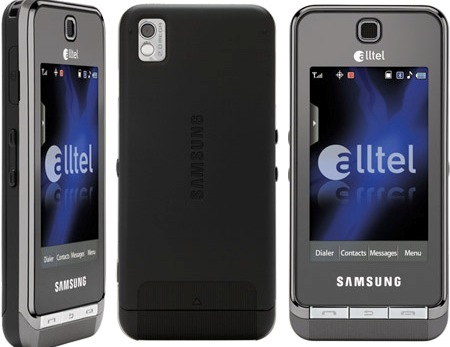 "There is a paradigm shift in the way users are interacting with their wireless devices, and Alltel is at the forefront of creating new ways for users to harness the power of their mobile phones," said Brian Ullem, vice president of device strategy, Alltel Wireless. "The Samsung Delve boasts a new, powerful user interface using 'widgets' customers can drag and drop to configure their phone. It offers a new level of control and convenience."
Highlights Of Samsung Delve From Alltel Wireless:
3-inch WQVGA touchscreen with a resolution of 240 x 400 pixels
Samsung's unique TouchWIZ interface allowing the users to customise and personalise their phones with specially designed widgets
2 megapixel camera with video capability
Full HTML browser, MP3 player and Bluetooth capabilities
GPS capable with Alltel Navigation
Alltel Pic Transfer, Alltel Mobile Advisor, City Id, Collapse Chaos and Wallpaper Universe are preloaded on the handset
Expandable MicroSD memory slot
Industry standard 3.5 millimeter headset jack
Talk time: up to 330 minutes; Stand by time: up to 205 hours
"The customizable features of the Samsung Delve make it easy for people to use and navigate," said Bill Ogle, Chief Marketing Officer for Samsung Mobile. "People are busier than ever, and the easy-to-use Samsung Delve will keep the features people need within a single touch."
According to the release, "Alltel's newest music application, nuTsie, is available for free access on the Samsung Delve. nuTsie provides the ultimate music experience by allowing users to stream their own iTunes playlists, their friends' iTunes playlists and nearly limitless new music from nuTsie's catalog – with no side-loading or uploading hassles."
The new Samsung Delve mobile phone which measures 3.89 x 1.93 x 0.55-inches and weighs just 3.35 ounces will be available through Alltel Wireless for $199.99 after $100 mail in rebate and 2-year service agreement.