User who familiars with nLite or vLite will certainly familiar with the tool that used to create customized Windows operating system installation disc or ISO image. Almeza MultiSet is another such deployment tool which can be used as an alternative to nLite and vLite to customize setup CD or DVD of Windows XP and Vista.

Almeza MultiSet can be used to create a Windows XP or Windows Vista installation disk for unattended or silent installation that will automatically install the OS Windows without asking questions about username, product key, time and locale settings. It's also possible to instruct setup to automatically install favorite applications, with the necessary keys are entered into the registry, drivers updated, new patches (service packs) from Microsoft installed. MultiSet also has built-in capability to create bootable CDs/DVD disks, which can be used as a rescue means after a system crash.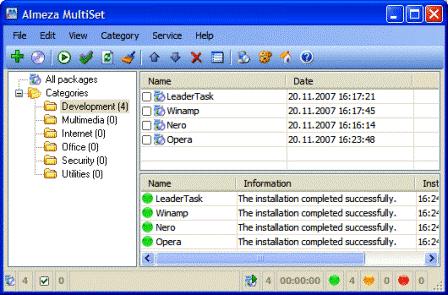 Features of MultiSet include:
Automatic Windows installation in any mode: repairing Windows (installing above the current version of the operating system) or reinstalling it completely.
Create a universal bootable installation disk or Windows installer for automatic installing software onto a computer using any media (CD/DVD/Flash/Hard Drive).
Automatic installation of any software, such as after Windows is installed, it is possible to install service packs, drivers, localizations, any software (codecs, audio players, service tools…) and configure them automatically as well.
Creating a bootable disk for simultaneous unattended Windows and software installation. It is possible to create a disk that will install both Windows and a set of software.
Automatically restoring software settings and tuning Windows. It is possible to automatically restore software and Windows settings. It is possible to restore registry keys, run special tools.
Remote automatic installation. It is possible to automatically install sets of software via the local area network. The necessary software will be automatically installed on any number of computers connected to the local area network.
Convenient Wizards for disk creation.
The program does not require any special knowledge (i.e. it has no special script language, complicated settings).
Processing all installation procedures correctly: restarting the computer during automatic installation, entering registration keys, entering usernames and other parameters; processing nonstandard exception situations in an adequate manner.
Giveawayoftheday.com had previously gave away free licensed product key for MultiSet back in May 2008, which otherwise costs $99.95 for single personal home user license. Those who miss out the deal, can now download, install and use MultiSet again today (January 21, 2009), as GAOTD is once again giving away the full version home user license for Almeza MultiSet 6.3 free of charge.
To grab the free activation product key, just download the MultiSet63.zip, unpack the ZIP package content, and then run Setup.exe to install the Almeza MultiSet software. To activate the installed copy of MultiSet, copy activate_multiset.amltkey file to the program installation folder, which is by default at C:\Program Files\Almeza\MultiSet path/folder.
It's also possible to download and install Almeza MultiSet Professional 6.3 trial version setup installer from almeza.com (which also does not require and bypass the GAOTD call home validation), and then use activate_multiset.amltkey to register unlock the full version unrestricted product. Other than copying activate_multiset.amltkey to program folder, double click on the file will activate the software too.