Wanna try to drive a Porsche 911 Turbo S? Not a real car, but a cool gaming steering wheel set that designed for Sony PS3 (PlayStation 3) and PC, the Porsche 911 Turbo S wheel that designed by Fanatec and fully licensed by manufacturer of supercar – Porsche. As what you see in the photo, the Porsche-style gaming gadget will come with ForceFeedback wheels, 6+1 Speed H-pattern gear stick with realistic shifting feel and wireless pedals.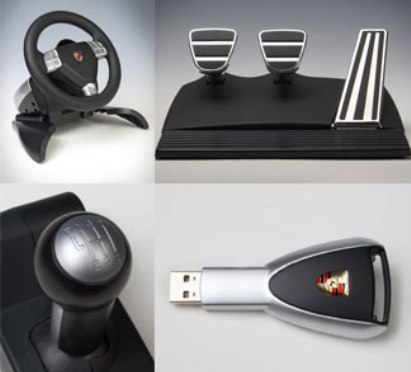 Besides, you also can purchase a special Porsche 911 Turbo S Nordschleife Edition, which includes a 1GB USB memory stick styled exactly the same as the Porsche car key. It's cool!
Key Features Of Porsche 911 Turbo S Steering Wheel:
The original reproduction of a 911 leather steering wheel gives you the genuine Porsche feeling
Wireless USB technology which provides latency free signal transmission to the PC/Console and is very robust against interference (Power supply to wheel still needed)
3 Force Feedback motors and smooth belt drive deliver sensational realism
Authentic wireless pedals with clutch and soft-stop brake
Two gear sticks included: 6+1 Speed H-pattern and sequential
Compatible with PC and Playstation 3 (6+1 gear stick is only supported on PC and Playstation 3)
According to the company, this amazing Porsche-feeling gaming gadget is compatible with most current and upcoming racing games. The $350 Porsche 911 Turbo S steering wheel that available in coming December and take pre-order now seems perfect for people who loves racing games very much.