The famous American electronic commerce (e-commerce) company based in Seattle, Amazon.com, Inc. has announced its new mobile shopping application for iPhone and iPod touch, which offers an easy way for users to search and browse for millions of products available from Amazon.com and over 9,000 other merchants including Target and Macy's.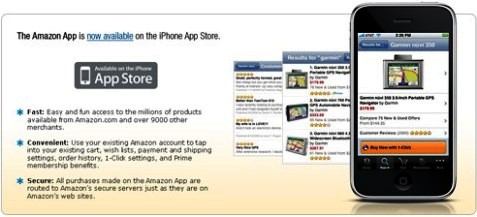 According to the company, "The Amazon app for iPhone and iPod touch includes an experimental feature called 'Amazon Remembers'. Amazon Remembers helps customers keep track of items they see in their daily lives and even tries to match photos of products to the same or similar products available on Amazon.com. Customers simply snap photos with their iPhone, the photos are automatically uploaded to Amazon.com, which then tries to find products similar to the ones in the photos. As soon as the customer receives the results, they can then purchase the item immediately or 'remember it' for later in their Amazon account."
"We designed the Amazon app to be a quick and easy way for iPhone and iPod touch users to shop, browse, and buy with Amazon.com," said Sam Hall, director of Amazon Mobile. "We're also really excited about Amazon Remembers because it's a fun and useful way to use the iPhone camera to find and remember items while on-the-go. Customers can build visual lists of things they want to remember, buy, or even learn more about."
The new Amazon iPhone app which able to access Amazon's popular shopping features such as Customer Reviews, and purchase using 1-Click setting and Amazon Prime membership benefits is now available as a free download through Apple's App Store.