Cloud media streaming service is one of the hottest trend in computing to address the ever-increasing demands of secured digital storage space. Amazon has officially announced the launch of its new highly-anticipated cloud-based services – Amazon Cloud Drive, Amazon Cloud Player for Web and Amazon Cloud Player for Android, which allow for secure uploading and storing of music and other contents in the cloud (online storage on Amazon's secure servers) and easily, conveniently access them anywhere on Android-based devices, Mac and Windows PC.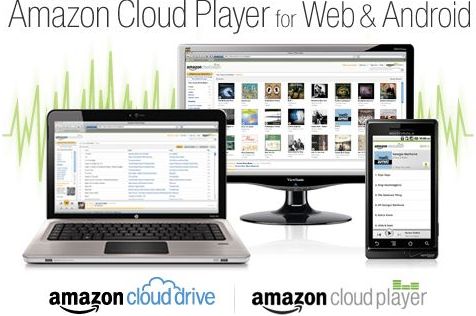 "We're excited to take this leap forward in the digital experience. The launch of Cloud Drive, Cloud Player for Web and Cloud Player for Android eliminates the need for constant software updates as well as the use of thumb drives and cables to move and manage music," commented Bill Carr, vice president for Movies and Music at Amazon. "Our customers have told us they don't want to download music to their work computers or phones because they find it hard to move music around to different devices. Now, whether at work, home, or on the go, customers can buy music from Amazon MP3, store it in the cloud and play it anywhere."
Amazon Cloud Drive that able to store virtually all kinds of digital files including music, photo, video and data is currently just available for US customers with 5GB of free online storage, upgradeable to free 20GB cloud storage with purchase of any Amazon MP3 album (time-limited promotion). In addition, Amazon also offers additional paid storage plans from 20GB to 1TB storage space, priced at $20 per year – $1000 a year, respectively.
Amazon Cloud Player for Android is built into the new version of Amazon MP3 App, while Amazon Cloud Player for Web initially supports Internet Explorer 8+, Mozilla Firefox 3.5+, Google Chrome, and Safari for Mac. According to Amazon, new purchases from Amazon MP3 store are stored directly in your Cloud Drive for free of charge – without taking up any of your free storage space.