We just talked about the new media module released by Broadcom to boost the Blu-ray HD video decode capability, now it comes another similar external graphics module that is able to enhance graphics processing of an entry level PC or laptop to next high level. Named as ATI XGP, it is a next generation product being developed by AMD targeting to enhance the multimedia and visual experience of an average laptop or PC system.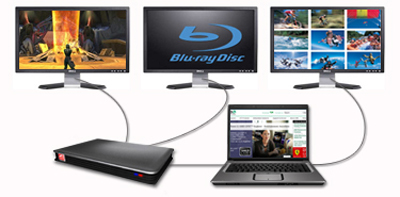 Unlike Broadcom media modules, ATI XGP is an external portable device that connects to conventional PC system through PCI Express 2.0 connector with ultra high bidirectional bandwidth of up to 4GBps. Powered by Radeon HD3870 with ATI CrossFireX advanced technology, the stylish external graphics box can scale up its traditional entry level laptop's graphics performance, that offers ultimate visual experience with various HD (High Definition) as well as Blu-ray media playback. Besides, it supports HDMI (High Definition Multimedia Interface) dedicated for HD media devices connectivity in digital home. That is not all, the powerful media module can connect up to four displays simultaneously with HD media contents without compromise in graphics performance.
The device has been announced during the recent Computex event held in Taiwan. However, no pricing and availability has been disclosed yet but it may compete directly with Broadcom if they are targeted at the same price range.