AMD (Advanced Micro Devices) has just unveiled a new ATI Radeon series GPU (Graphics Processing Unit) suitable for various multimedia intensive applications. Named as E4690, it is a powerful GPU clocking at 600MHz which claimed to be able to exceed its predecessor GPU performance by three-fold for embedded market.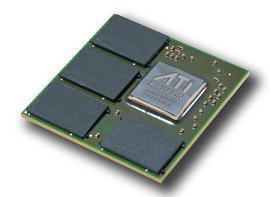 The new E4690 GPU is enhanced with some of the advanced graphics capability such as the Microsoft Open GL 3.0 and DirectX 10.1 that make the it fits well into the market's needs. Further enhanced with AMD's UVD 2.0 (Unified Video Decoder), it is capable to accelerate hardware decode on wide variety of media codecs such as MPEG-2, H.264, VC-1 and many more. On top of these, the next generation GPU supports a series of display interfaces including analog RGB, Composite, SVideo as well as digital DVI, HDMI and even DisplayPort v1.1a. Some of the usage models that can be targeted include digital signage, high end gaming machine and multimedia entertainment system where intensive 3D processing is a must.
No pricing and availability information yet, the single chip design with integration of CPU and graphics capability will able to simplify board design and shorten time to market, competing against other rival's solution in existing space.