Amimon Inc has announced yesterday that the new WHDI (Wireless High-definition Interface) chipset is ready to be shipped to the CE (Consumer Electronics) manufacturers for development. The WHDI chipset (both AMN2110 and AMN2210) can be embedded into HDTV, set-top box and other digital CE products directly to replace existing HDMI (High-definition Multimedia Interface) for high definition multimedia connectivity. The WHDI is a new revolution from HDMI that enables wireless connectivity of High Definition video streaming in digital home.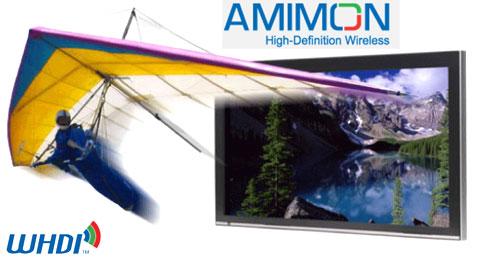 Wireless is always a preferred method for home LAN connectivity. Similarly, WHDI technology is always welcomed when it can replace the HDMI or other AV cables while still maintaining the original video quality. It is capable of supporting full HD 1080p by utilizing 40MHz channel bandwidth in 5GHz unlicensed band. Besides being a neat solution to replace cables, it poses a great advantage of long range around 100 feet streaming support as compared to ordinary HDMI cables.
WHDI is a trademark of this company with prototype samples ready to be referenced and developed by any CE manufacturers. Some manufacturers such as Funai and Loewe have already started engaging with Amimon to get their products integration and demo ready in preparation for IFA event in Berlin soon. We should expect the WHDI end products to be available in the commercial market by early of 2008.