Does the information of Windows properties enough for you to analyze your files? FileAlyzer is a free utility which able to integrate with properties of Windows Explorer to provide additional information of any file. FileAlyzer allows a basic analysis of files by displaying the file properties and file contents in hex dump form. Beside that, it able to interpret common file content such as text, HTML, media, graphic and etc.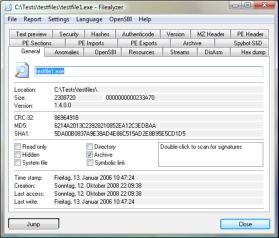 The interface of the program consists of a lot of tabs which individual tab provide the details information of particular properties. The program also allows previewing the contents of compressed file such as zip, rar and etc. The usage of the program is simple, just right click on any file and click the Analyze for display the details of properties.
It supports multiple types of languages and the application is support for all version of Windows starting from Win 95 to Vista. It also available in Lite version which has less features such as tabs as compared to full version. The Full version and Lite version are available for download.