Google's Android Market that offers mobile apps for Android system kept growing larger and larger, and more than 4.5 billion apps have been downloaded and installed from Android Market to date. With growing number of apps available, are you feeling harder to discover your desired Android apps? In bid to fight for a bigger slice of mobile app market against its strong rival – Apple App Store, Google enhanced and further improved Android Market search experience by providing Android users 5 new great ways to search, providing solutions to easily explore their interested apps among more than 200,000 apps. The 5 new ways to search are Top App charts, Editors' Choice, Top Developers, better Related apps and Trending apps.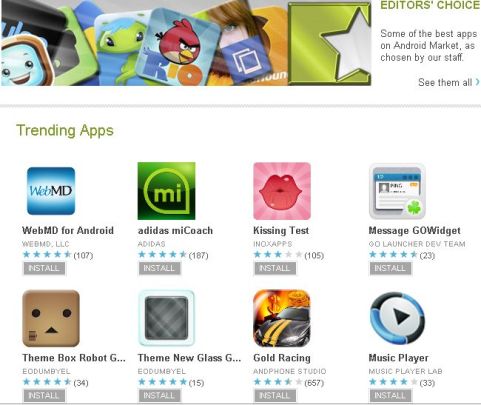 The revamped Android Top App charts are fresher in data and country-specific, with more choices available including top new free, top new paid and top grossing lists. If you wanna discover great apps that highly recommended to download, Android Market staffs are right here to promote some of the best applications through the newly added Editors' Choice feature.
Besides, the top developers producing the highly-popular, highest quality as well as most notable applications are available for you to explore. With improved related apps feature, you're allowed to check which apps are often browsed by people who viewed this app, and apps that people be inclined to install alongside this app.
Those fast-growing apps with the rising numbers of daily installs are also recognized in the new Trending apps section. Now you can easily check the hot trend of today's Android Market!
These 5 new helpful Android Market features that seems good to gain on the App Store rivalry are now available at market.android.com, and is expected to be rolled out soon at Android Market on Android-powered smartphones and tablets.