China SciPhone has recently announced its N12 handset which runs on Google open source Android operating system. The N12 handset is powered by a 624MHz Marvell Monahands CPU with Qualcomm MSM6246 chipset. According to the report, it is the first Android phone from small manufacturer. The phone has been designed with trackball for easy navigation.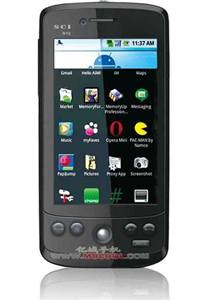 Along with a 3.2-inch touch screen, N12 is also equipped with a 3.2-megapixel camera, it boasts A-GPS, supports Wi-Fi and CMMB TV. In addition, it is quad-band GSM device which supports 3G WCDMA data network and Bluetooth enabled.
The SciPhone N12 is expected to be available on 25 June and is priced at equivalent of about $234.