Ever thought of ability to watch favorite TV series on Android device, anytime, anywhere? To make life simpler and easier in term of entertainment on the go, a multimedia application, AndroidVision TV, is available for free download on mobile devices running Android OS.

AndroidVision TV is a handy multimedia app that allows users to watch favorite TV shows directly on an Android device. AndroidVision TV comes with easy to use interface with options to select which show to watch, browse 'recently added' and 'coming soon' shows. Apart from that, AndroidVision TV will also be kept up to date with the most popular TV shows available in the media. With AndroidVision TV, users can watch a huge collection of TV shows on Android device and best of all, all videos are available for free without limitation.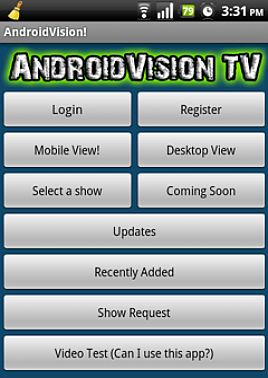 To get started with this app, users need to download AndroidVisionTV for free from the Android Market, and then perform a free registration at the AndroidVision website. Users can either fill-in the registration form with credentials to make an account, or use Facebook account to register and use the Facebook Connect button to login.
AndroidVision TV supports Android 2.2 or later with Flash Player 10.1.
Note: AndroidVision TV has been removed from the Market.