Working in an office building in the city can sometimes be so stifling. Unless you are the company CEO with a skyline and view of the city, the executive will trod on in a miserable corner piled up with paper and secluded from any window/opening. The weary personnel may not even know the weather outside. YoWindow keeps office workers alerted to the weather and temperature outside their work cubicle so that they do not lose touch with nature.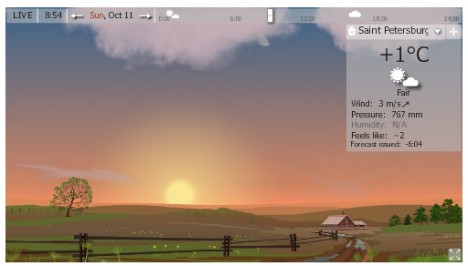 YoWindow is a real time weather report and weather forecast application that can be run as an application or set as a screensaver. Users select a city in the application and the program will tell you the weather outside and also forecast the weather. But rather than merely displaying words, numbers and symbols, YoWindow provides a glimpse of the rising/setting sun, blue skies, stormy clouds, lightning, etc through animation on a backdrop of the quaint countryside. Seeing the changing visuals on your computer screen should remind you of the out of doors and nature. Users can add their own images to personalize the screensaver or weather forecast. Besides real time weather conditions, users can also get a brief overview of the weather over the next few days.
YoWindow is $9.99 to buy. However, users can try the free version which allows users to add two favourite locations and enjoy a three-day forecast.
Download YoWindow here.