AOL has recently announced the availability of AIM 2.0.9.1 beta for Windows Mobile. The new version of AIM has been included a number of new features and changes for enhancing mobility experience. One of the notable feature is the Lifestream. The Lifestream allows users to keep tabs on what is happening with their contacts and the Lifestream tab has been added to the Buddy List for improving convenient.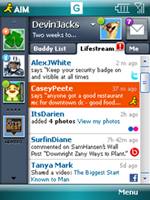 The Lifestream comes with a series of features, including the ability to get AIM activities such as status updates or add Facebook and Twitter services. Moreover, the users also have the possibility to update their settings through syncing to their accounts via lifestream.aim.com.
Beside that, the users also can add YouTube or Delicious accounts, leave comments or read comments which made by their contacts. In addition, it also include Me tab feature for complement the Lifestream feature which enables users to see when their contacts leave comments or updates.
The latest version of AIM 2.0.9.1 beta for Windows Mobile  is available for download. Both Windows Mobile 5 and Windows Mobile 6 operating systems are supported.