Apple and Audi have joint effort in getting its famous gadget, iPhone support to be integrated into Audi car multimedia system. Some of the Audi models such as A5, A6, A8 and Q7 are already in the plan to be equipped with cable interface and upgraded firmware so that some simple device controls can be done through car navigation menu.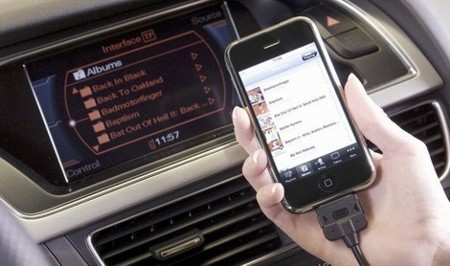 The cable interface, known as AMI (Audi Music Interface) enables the connectivity of the iPhone to the Audi stereo system for In-vehicle entertainment to take place. With the help of AMI, the driver doesn't need to browse through the iPhone menu screen but still able to control similar functions via the car navigation menu. Some of the functions such as music playback, artist and track selections can be accomplished pretty simple and the music streaming will be routed to the vehicle's surround sound system. Besides the music streaming capability, the user is able to pair its iPhone using the Bluetooth wireless connectivity for normal hands-free operation. They will definitely enjoy the true digital convergence experience while traveling on the road.
Regardless of all these perfect matches, there is only one draw back from Apple iPhone functionality itself. The integration is said to be perfect if Apple would have implemented the A2DP (Advanced Audio Distribution Profile) Bluetooth feature at the first place. Just imagine how great it could be if all these can be done wirelessly without any 'wire' involvement.