Apple has announced the launch of its revolutionary new App Store for iPhone or iPod Touch, offering over 500 native applications from hundreds of companies around the world in a variety of categories including games, business, news, sports, health, reference and travel.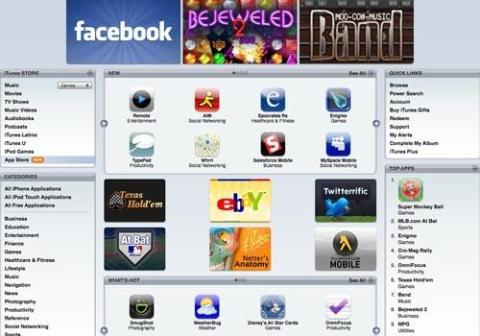 "iPhone represents a new software platform for developers, combining the most advanced mobile operating system, sophisticated developer tools and a breakthrough way for developers to wirelessly sell and distribute their applications right onto every iPhone," said Philip Schiller, Apple's senior vice president of Worldwide Product Marketing. "The reaction from developers has been very, very positive and we're opening the App Store with over 500 native iPhone applications available for immediate purchase and download."
"iPhone enables The Associated Press to deliver news in a way that simply wasn't possible before," said Benjamin Mosse, director of Mobile Products, The Associated Press. "Taking advantage of iPhone's revolutionary location-based services, our Mobile News network can capture and store local news stories that can be read by users even when they're offline and our award winning photography and AP video are displayed in stunning clarity on its high resolution screen."
"iPhone is changing the entire mobile industry and has quickly become the number one mobile device for accessing eBay," said Ken G. Sun, group product manager, eBay Mobile. "Users can shop, track bids and get great deals from the largest online marketplace in the world directly from their iPhone. We couldn't deliver such a complete and easy-to-use eBay experience on any other mobile device and iPhone users can download it free from the new App Store."
"iPhone is one of the most popular ways for people to enjoy Facebook on-the-go and we're excited to deliver a great native application via the App Store," said Mark Zuckerberg, CEO of Facebook. "Facebook is even cooler on the iPhone 3G, with the ability to discover friends nearby, or to effortlessly take pictures and upload them instantly to their Facebook account."
"The global MySpace community will love MySpace Mobile on iPhone," said Chris DeWolfe, CEO and Co-Founder of MySpace. "With rich features such as seamless photo uploading from iPhone to your MySpace profile, the MySpace Mobile application is gorgeous and as intuitive as possible—empowering the community with complete control over their global MySpace network right from the palm of their hand."
"Apple's iPhone and iPod Touch open up the world of games to an entirely new audience," said David Cobb, vice president of Product Development, Sega. "The touch and tilt controls are natural and easy to learn, making gaming even more inviting, creative and rewarding. Super Monkey Ball takes advantage of these defining aspects and offers consumers an extremely accessible, imaginative and fun game experience. Whether an iPhone owner is new to games, or has been a fan for years, they will be intrigued and engaged by Super Monkey Ball and this progressive way to interact with entertainment."
"With an iPhone in your pocket, you'll never roam alone," said Jeffrey Glueck, CMO of Travelocity. "From finding the nearest hotel with just a few taps to checking your flight status in a snap, the magic of iPhone lets us put tools that no one has ever seen before in the hands of travelers."
Check more details of Apple's App Store on its official site.