Apple's iPhone has been selling like hot cake after the recent launch. However, there are criticisms around saying that the battery replacement program is too expensive, especially taking into consideration that the recharging life time for a new original battery is only around 300-400 cycles before its performance starts to degrade. By looking at this great opportunity, some of the China manufacturers have came out with the iPhone battery replacement kit that provides an alternative solution for those that doesn't want to go through the hassle and cost of sending their iPhone back to service center for replacement. The replacement kit costs only $20, which is about 4 times cheaper than original battery replacement program (costs around $80) that was launched by Apple Inc. recently.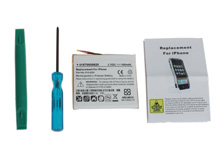 The kit contains a rechargeable iPhone compatible 1400mAH, 3.7VDC battery, an assembly tools and instruction manual. The user is required to unsolder the battery contact from original package and solder the new replacement battery by itself. Take note that this is purely DIY (Do It Yourself) and the user may have to accept the risk of battery explosion (since there are quite a number of cases happened on counterfeit batteries) after the replacement.
I certainly doubt the quality and reliability of the battery self replacement as normally the battery cell contacts will be spot-welded instead of soldering. The reason is spot welding process imposes better connectivity and thus reducing the contact impedance leakage current significantly. In other word, the battery which was spot-welded will be able to last longer as compared to those that were soldered. Hopefully Apple will provide more affordable solution after considering those counterfeit battery replacement options available in the market. If you interested, the kit is available via Brando, a HK company.