After the recent launch and popular demand of Apple iPhone, many of us are curious to know what the cost price of making an iPhone is. And another question would be which company, other than Apple that has made much profits of it. The answers were revealed together with the BOM (Bill of Material) cost analysis done by iSuppli Corp.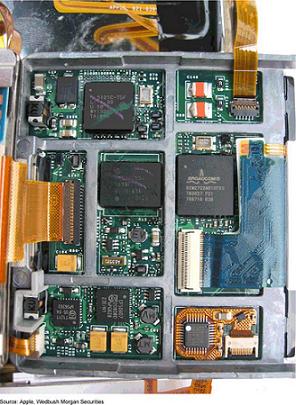 The new 8GB iPhone is said to cost around USD265 based on the recent announcement by iSuppli. The cost includes both the hardware piece parts as well as manufacturing cost.
Based on the selling price of USD599 in the market, it is estimated to have 55 percent margin which is considered good in mobile market segment.
iSupplie Corp. further disclosed that Samsung Electronics is the major supplier which contributes 30.5 percent to the overall hardware cost. In terms of hardware component numbers, Infineon Technologies has supplied the most parts which constitute 6.1 percent to the overall cost. And the rest were contributed by National Semiconductor, Epson Imaging, Wolfson Microelectronics, Marvell and etc.
Samsung Electronics has supplied its ARM based core processor, NAND flash ROM and DRAM memory which serves as a heart for the proper operation of this popular gadget. Surprisingly, the ARM core processor costs around USD14.25 and is much cheaper than the NAND flash, which determines the main selling price of both 4GB and 8GB models. The NAND flash of 4GB and 8GB models cost USD24 and USD48 respectively.
It is forecasted that Apple will ship 4.5 million units of iPhone in 2007 and expected to hit 30 million units in 2011. By looking at the breakdown, margin and huge demand, you can have a good guess of who will be the next fortune company besides Apple that have gained much profits in few years down the road.